Ronald Holmes is harassing and defaming me
Ronald Holmes is harassing and defaming me

On October 11th, I was on tour in New York City:
Oops, if you texted while I was in the woods/out of reception, my phone sucks and you should text me again now that I'm in civilization. #DC #companion #sacredintimate #tantra #bdsm pic.twitter.com/h76dFOC4Hz

— RiverInAK (@writetoriver) October 7, 2018
Thanks for the good times, #NYC! Now I'm off to Nature and Beauty with a special sweetie and not a lot of reception so please be patient with me if you're waiting for me to respond.

— RiverInAK (@writetoriver) October 13, 2018
When I started getting texts from an Alaska number that has been texting me but never booking for years. He kept texting random questions and then said that he wasn't in Anchorage (neither was I) so didn't want an appointment. I should have just ignored him, but instead I told him to stop contacting me until he was capable of actually booking an appointment:
He did not take kindly to being told to stop wasting my time and accused me of being in Anchorage and ripping him off: 

I checked the number he was texting me from and it's owned by a Ronald Holmes. Since he had told me his name was Ron, I deduced that this was in fact him. I checked courtview and he has domestic violence, assault, and harassment cases.
Apparently true to form, Mr. Holmes proceeded to send me harassing text messages daily.
Mr. Holmes thinks that I am unable to go to the Anchorage Police Department for protection from his harassment because of my status as a 'fallen woman.'
When Ron Holmes threatened to defame me on the internet, I again reminded him that my twitter posts showed that I was in New York City on the day he alleges he was ripped off (I doubt anyone ripped him off – guys like this will make up anything for an excuse to harass a woman).
…I sent him a whole cease and desist letter, I won't bore you with the several pics it would take to show you the whole thing. Then I checked AdultLook and found that he had already posted a false and defamatory review alleging that I was a scammer:
He called me Jodi, not a name that I have ever had or gone by.
I googled the number he said was also me and found that it belonged to a thin blond: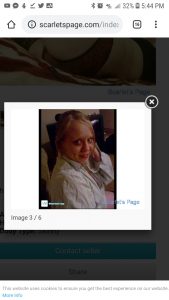 There's no way he actually believes that I, a very curvy auburn haired beauty, am that thin blond with a phone number that's never been associated with me. He just believes that he is allowed to harass and defame me because of my profession.