Where's River? June!
Where's River? June!
Hi Friends!
I'm on my way to Anchorage right now! I'll be there the 14-16. Then if a couple more people book I'll be in Juneau the 17-18 and back in Anchorage the 19-20th. If you want to see me in Fairbanks just get in touch a few days ahead of time.
I realized I haven't updated the pictures section of this site in forever! I'm going to do that very soon but in the meantime click the buttons to see new pictures on my Instagram (including pictures of the woods, my new hobby).
And here, I made you this handy picture: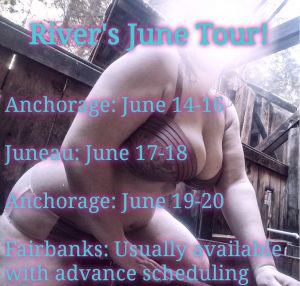 xoxo,
Rivee